B R I A N 'S I L L U S T R A T E D L I F E S T O R Y
chapter 5
THE NINETIES - ITALY, JAPAN & THE FAX MACHINE
1990 - 2003
Voulez-vous un verre de Champagne?
At a time when more and more people were communicating through the internet, Brian remained a fervent believer in and user of the telephone and fax machine. One tone for the fax machine, another for the telephone, which always produced a most reactive sprint to 'pick it up' until we got him a cordless telephone fearing the inevitable accident his 'answer' ardour created. If it were a business proposition he would usually smile whereas a social one would be met with a courteous, but less enthusiastic, response: "I will pass you over to Aurélie," he would say. Brian loved to entertain, he just preferred to choose the place, the company and the time. He could be very gregarious and was a brilliant host. "Voulez-vous un verre de Champagne… un kir?" was his usual method of welcoming anyone to his home. Later in life, in his eighties, he would even make this same proposition to young ladies dressed head to foot in white, with stethoscopes adorning their necks. "Daddy!" we would say, "they are nurses on duty for goodness sake!" "Ah, to hell with it! Everyone likes a glass of wine," was his response, completely oblivious, A, to the time, usually late morning and B, to their profession and deontology. He just loved to spread a little happiness! Needless to say, all the nurses and helpers loved our parents and this quite eccentric break in their routine.
As they grew older, both our parents seemed happier in the company of their grown up children's friends than those of their own generation. Conversation was perhaps less stifled, more adventurous and freer in tone. Summer parties thrown in Castellaras were a yearly occurrence but nine tenths of the village were not usually invited. "Oh not that stuffy, dreary old so and so" Brian would say, "Let's have some interesting and fun people. Invite all of your friends."
At one such event I witnessed my father, most firmly but politely requesting a man to leave. It was not because he had gate crashed, nor that he had the excuse of driving, since he lived in the same village. My father considered him a righteous bore and so when he turned down a single glass of wine, that was just too much, in fact it was unthinkable. "It is a party we are having here sir. I think you are in the wrong place," I heard him say.
As a complete change of topic maybe we need a heading
In the late 80s Brian had been contacted by Daisaku Ikeda, a Japanese Buddhist philosopher and third president and founder of the somewhat controversial Soka Gakkai movement. Captivated by Brian's illustrations, Mr. Ikeda had invited him and Aurélie and their daughter Anna to tour Japan in 1989. Mr. Ikeda had chosen Anna over the other three children, because of the unfortunate physical aggression she had recently been subjected to in a bar she worked at in Berlin at the time, that had left her scarred and that had come to his attention. His hope was that Brian would be so inspired by the hospitality, the landscapes, and the spiritual convictions of his host, that he would accept the invitation that would follow - to illustrate four children's stories he had written - and that communicate, according to their author, "the love that fills the universe."
Brian accepted and responded with "outstanding illustrations that sing with life, reminding us that even the smallest detail of our existence is miraculous." The four titles were: The Snow Country Prince 1990, The Cherry Tree 1991, The Princess and the Moon 1991 and Over The Deep Blue Sea, 1992. All were translated by Geraldine McCaughrean (two times winner of the Carnegie Medal), and originally published by Oxford University Press. She told us, "Translator is a huge exaggeration of what I was. What should it have been? Re-teller? Reworder? In fact, the words were translated very approximately by the author's mother, and I was given her notes as my guideline. The pictures were complete before I wrote the text, so the pictures were an almost greater guide than the words. It was very early in my career as a writer and I was very pleased to work on the books. The illustrations were so poetically beautiful that they suggested the style I needed to catch." They are tales for children that cover hope, perseverance, compassion and pacifism, subjects not at all unfamiliar to Brian, who was to maintain a relationship with Mr. Ikeda until the end of his life.
A series of sketches Brian drew whilst on a tour of Japan with our mother and sister Anna in 1989 as guests of Mr Daisaku Ikeda.
In the book Opening the Door to a World of Dreams, Hope and Magic, written by M. Ikeda, in which he reflects on his encounters with various world figures, he says, "All Wildsmith's illustrations have a warmth, a pulsing life. All living things, trees, flowers, people, birds and animals glow with the joy of life. His skies, seas, houses and landscapes are all bathed in a gentle, nostalgic light, whose source is the love and affection in his heart. On meeting him for the first time, I was struck by his pure nature and his earnest concern for children. Wildsmith points out that in a society overflowing with material goods and information, children become accustomed to getting what they want, when they want. The joy of discovery is lost, as well as their ability to be creative. By using the power of art, Wildsmith has devoted his life to helping children realise their hidden potential."
The four books written by Daisaku Ikeda that Brian illustrated in the 1990s.
In some of Brian's writings that we found where he speaks of "his affair with Japan," he had written, "moving on to 1990, when a selection of my illustrations were exhibited at the Daimaru Museum of Tokyo, 24,000 people visited the exhibition in a week, and members of the Imperial family attended twice. Later, that exhibition was taken on tour to six other museums in Japan. Hong Kong was to follow, as the next destination for 75 pieces, exhibited in 1992 at The Queensway Exhibition Hall. After the tape-cutting ceremony it was Mr Ikeda who introduced my paintings to the public as well as leading representatives of Hong Kong society. Attendance was excellent, all twelve Chinese papers reported the event as well as the most popular TVB television station. In just over a year this exhibition would travel to ten Japanese Prefectures totaling 226,000 visitors. I thank you for the great reverence with which you all treated me."
A note Brian wrote in a sketchbook during this trip to Japan - a reminder of time spent and materials used since his 1st book for a talk he was to give.
Through his many successful trips to Japan, Brian was being introduced to more and more people who loved his work. In the late eighties, the large paintings that had been exhibited both in New York and San Francisco now arrived in Japan to be shown alongside some of his book illustrations in the exhibition area of the country's leading bookstore, Maruzen. "At the opening of this event," said our father, "an elderly lady in traditional dress standing before one of my three dimensional paintings made up of 2000 pieces of wood, each one cut and painted, said she could not understand the work but was strangely moved by it." That same evening Brian was re-introduced to Mrs Michiko Nomura who offered to become his exclusive agent for Asian and Japanese territories. They had met ten years earlier at a dinner for the 5OOth anniversary celebrations of Oxford University Press when she was secretary to Mr Kawawaki, their Tokyo manager.
During those years she had worked for Oxford University Press in the mid 60s, she had attentively followed Brian's artistic career and rise. She then worked for her uncle - owner of the prestigious Kawamura Memorial Museum in Sakara, focusing on the 20th-century art of Picasso, Braque, Kandinsky, Malevich and others - in art exchange negotiation and acquisitions, before becoming a freelance curator throughout Japan and the rest of Asia. An ambitious woman, with many business connections, she saw the potential in building a museum dedicated to Brian's work. With money her father left her she decided to create the Brian Wildsmith Museum which opened on 5th March 1994.
The museum was located in Izu Kogen, at that time "a sleepy little fishing town," surrounded by rolling hills and just two hours from Tokyo. It was like walking into the artist's house and was a treasure trove, with over 100 pieces of Brian's artwork on display as well as a collection of his personal belongings, as if she had wanted to emulate the atmosphere of his family home that she had been invited to on several occasions.
She soon began to plan events beyond the walls of her own museum and with the help provided by the members of her network, she began coordinating a series of exhibitions under her company name, M et M Co. Ltd.
They were:
The World of Brian Wildsmith 1995 - 1996 which toured 7 Japanese cities.
The New World of Brian Wildsmith in 1997 which toured 4 Japanese cities.
THIS NEEDS MORE THOUGHT
Each of these exhibitions as well as the ones to come were becoming larger and larger in size and obviously demanded that Brian send her more and more of his original artwork, always "on loan," and with the added specification that they were to be returned, "if and when the museum closed." The museum eventually closed in April 2016. We still await the return of over 900 of Brian's original illustrations…
The next exhibition was a collective one under the patronage of The British Council, "the UK's international organisation for cultural relations and educational opportunities, which promotes innovative and diverse aspects of the UK arts." Charles Keeping, Quentin Blake, Victor Ambrus, Anthony Browne, Raymond Briggs, Michael Foreman and Brian were the artists who had been chosen to represent The World of English Picture Books, a touring exhibition from 1998 to 1999 that visited eight different venues in Japan. In the exhibition catalogue, Julia MacRae, who had published Douglas Martin's The Telling Line, that we refer to in several parts of this biography, found common denominators in all the artists. She wrote: "They have exceptional talent of the kind which transcends national and cultural barriers so that their books can reach out to a worldwide audience. They share humility, commitment and integrity. They look at their work as objectively as they can and strive only to make the 'next book better', encouraging young eyes to look at the picture and into the picture and to see beyond what is on the page into the limitless realm of the imagination."
It is interesting to note that the Japanese, on the whole, view 'picture book art' on a par with the 'fine art' of the type found in galleries in the western world. For exhibiting art, many large department stores have impressive spaces, dedicated to exhibitions, which they call museums, tying in with the Japanese marketing concept of mixing art and culture with shopping.
At one of the exhibitions of his work at the Daimaru Museum in Tokyo, that had attracted 35,000 visitors in its first week, Brian had been introduced to Princess Takamado, widow of Norihito Prince Takamodo. The Princess asked him if he would illustrate a story she had written, Katie and the Dream-Eater, and charmed as he was by both the author and her story, he accepted. The book was published simultaneously in Japan and Britain in 1996. It was then translated into four languages, contributing to international exchanges, coordinated by Mrs Nomura.
ADD KATIE IMAGES
Japan and its people's enormous enthusiasm for his work would be a dominating preoccupation for the rest of Brian's life and, as a 'suite', our's too… we shall speak of this later on in the bio, towards the end.
Back on more familiar shores in 1993 during the digging of the Channel tunnel, Brian had a most topical and brilliant idea: that of writing and illustrating a bilingual book, starting in English on one side and in French on the other. It tells the story of how two related moles, one French, the other English, decide to meet, in person halfway beneath the Channel, and linguistically halfway through the book, after some very intensive digging for some and most amusing reading for others! The Tunnel was launched to celebrate the opening of the Euro Tunnel.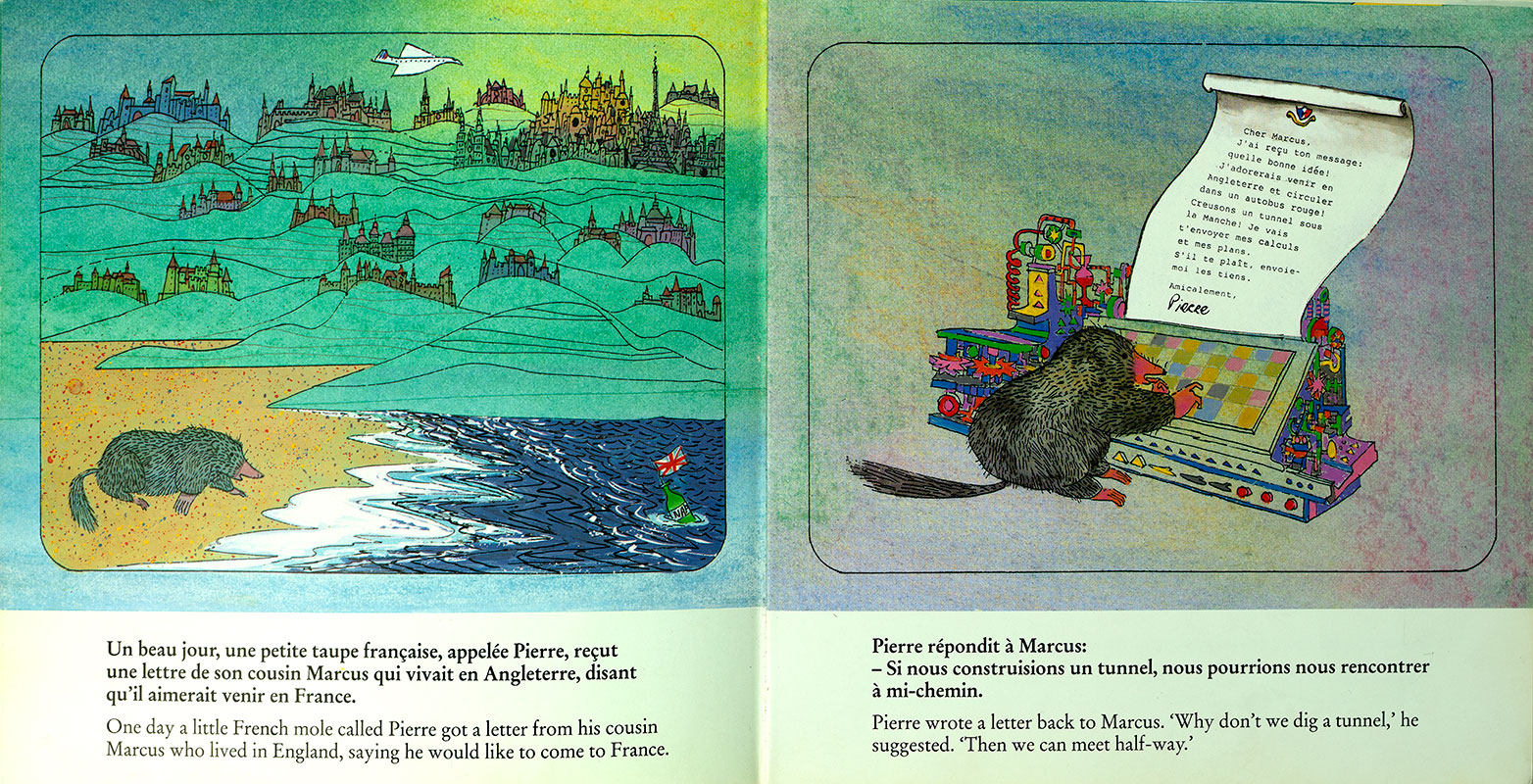 After forty years writing his own stories, Brian surprisingly accepted an Oxford University Press commission to illustrate three poems: Silvery by Denis Lee, Where's Melissa by David R.Morgan and Valery Mallory & Sue Hu Nu by Trevor Millum, all published in Twinkle Twinkle Chocolate Bar, rhymes for the very young compiled by John Foster in 1991.
Throughout his career, he had worked for just one publisher, and this despite attractive offers from the competition. He would often refer to Oxford University Press as his second family. Their mutual loyalty, sales figures, and trusting relationship had helped Brian acquire total creative freedom. In this next instance, it allowed him to leap from the contemporary and most concrete 90s 'Channel' event, back several thousand years to the founding lives, tales and stories of western society's culture.
Brian believed quite passionately that understanding a little of our history, in this instance through the history of art and its immense, and often unique patronage from the Church is a useful way to understand from where we come and as such, a little of who we are. He recognised how many of the Bible's messages and characters had, and continued to form so many aspects of our society, and felt the need to retell them to his young audience - not for their 'strictly religious, often moralistic' baring, more for their historical and cultural importance, just as an English language scholar would tell you that you cannot fully understand Shakespeare without knowledge of the Bible. Education as liberation and the only way to a relative freedom in thought and mind. Similarly, he loved churches more for their paintings, pilasters and frescoes than for the sermons preached therein. In fact he and our mother quite simply loathed the church's countless modern and historical hypocrisies just as they recognised the harm generated by its hostility to change, particularly on contemporary issues.
Our mother and father could be described as 'good' people.' 'Good Christian people' some might say. They believed in and practiced good neighbourliness. They were generous and gave to charitable associations. They were kind and thoughtful… Just like countless folk from countless communities and countless faiths, theists and atheists and everything in between.
These are the much simplified reasons for his producing The Easter Story, 1993 Saint Francis (1995), Joseph (1997), Exodus (1998), Jesus (2000), Mary (2002) and The Road to Bethlehem (2003). In fact, the family's move to the south-east of France was hugely motivated by the proximity of Italy as Brian was a passionate admirer of its Renaissance and Early Renaissance period in particular. From a design perspective, look no further than the triptychs of Giotto or Duccio to understand the provenance of the gold used to frame images in some of these books. Equally, in his creative reflection and drawing composition this period in art is doubtless that which most inspired his Biblical stories. Of the conception of The Easter Story Brian wrote, "It is a book burning with history, passion and tragedy. I decided that the best way of expressing this epic drama was to treat it like grand opera, to create the sets and place the characters within."
Fittingly, The Daily Telegraph remarked "The cosmic grandeur of the story is expressed in Wildsmith's sweeping pictures with their characteristic use of gold." Having spent time in Israel researching this book, Brian's "gracious thanks" went out to Mira Avrech, Abraham Rosenthal and the Israel Tourist board for "their great kindness and generosity in the preparation of this book." Just as Oxford University Press had reprinted The Christmas Story and The Twelve Days of Christmas in a new format in 2018, they reprinted The Easter Story in an identical one in 2019.
Brian had also considered writing about the life of Buddha, and possibly Hindu Gods as well, but beyond the odd drawing these stories never materialised. He quite naturally concentrated on and worked with the subjects he knew best. And what better place for academic and artistic research than Tuscany and Umbria! With their stunning cities of Florence, Sienna, Arezzo and Assisi, they provided the perfect excuse for many kilometres of driving, many days of walking, admiring, adoring, drawing and photographing… punctuated by stops recommended by his other bible… The red Michelin Guide!
Annotations found in one of Brian's sketch books have been added to these pictures from The Easter Story and can be read by clicking on the images.
The inspiration for Saint Francis had its origins in Brian's first encounter with an effigy of the saint on the day of his First Communion. As a young boy, at St. Helen's Catholic Church in Hoyland Common, he remembers kneeling at the edge of the altar rails, feeling terribly embarrassed that the holes in the soles of his shoes could be seen by the congregation. On his right was a statue of Saint Francis, a lamb in his arms and a squirrel perched on his shoulder. "He had a look of kindness on his face," said Brian. "He seemed to be saying 'it's not the soles of your shoes, but the soul within your body that I am looking at lad."
This experience left a lasting mark on Brian, and sparked a lifelong interest in Saint Francis, which led to exhaustive research, and, in turn, to his 1995 book of the same name, of which the Oxford Times critic wrote, that he had "filled the pages with the lines and colour of a stained glass window." The Church Times called it "a spectacular book in gorgeous colours lavishly laced with gold." As we write this, we are seeking publishers to re-issue the book. After all, the current Pope too, was so inspired by this man that he chose to adopt his name.
Brian had for many years ''toyed" with the idea of doing a book about the man's life, because, as he had said, "I guess that like most folk, my basic knowledge centred around the fact that he was a good man who loved animals and talked to birds. His statue is in so many churches, and the great city of San Francisco is named after him. I had visited Assisi in Italy many times, and was always impressed by how serene the city felt. Saint Francis is everywhere, on every street, around every corner. You even feel his presence when tramping the surrounding hills and valleys of Umbria. I had spoken to my editor Ron Heapy at Oxford University Press of my desire to do a book about the saint and he paid a visit to Assisi with me. We decided to go ahead with the project, not solely concentrating on Saint Francis' love of animals, but on all the main events of his extraordinary life, a book which would also be a visual survey of the essence of medieval Italy. From start to finish the book took four years to make, some of the illustrations being redone four or five times. They were painted the same size as reproduced in the book and in all humility, I am proud of them… there is not one page I would wish to change."
Original illustrations for Saint Francis, 1995, the saint that Brian so admired and with whom he first came into contact as a young boy in Yorkshire on the day of his 1st Communion.
It is a happy coincidence that Giotto, one of Brian's very favourite artists had, in the last decade of the 13th century, painted a series of extraordinarily powerful frescoes about events in the life of the saint, "which so deeply moved my heart," wrote Brian. Already, forty years earlier, in December 1950, while he was sitting his Slade School history of art examination, he had been moved by the style of the "master's depictions which left a bewildering effect." He would return to study, contemplate and admire "the volume and dynamic qualities of these masterpieces," from the father of the Renaissance at the Basilica di San Francesco in Assisi, on numerous occasions.
Aged 25, Simon remembers being re-introduced to these and hundreds of other marvels as he chauffeured his parents around middle Italy from Florence to San Gimignano, Sienna and Assisi to Perugia, then Padua and back. "I had studied the history of art at school and art school and was very excited about this trip. The deal was simple: I would do the driving and my dad would do the paying! It was a fantastic opportunity to spend one on one time with my parents, since I had spent more time in boarding school than with the family, and to properly experience some of the wonders that I had been too little to fully appreciate on earlier visits with my sisters. One vivid memory concerns Sienna. My parents were excited to show me the treasure trove that is this city and after the usual late and relaxed breakfast taken on the hotel's rooftop, overlooking a sea of vivid terracotta Roman roof tiles, the day began with the discovery of Duccio's Maesta at the Museo dell'Opera Metropolitana del Duomo. There followed a long walk around the Palazzo Publico with its incredible and huge equestrian portrait of Guidoriccio da Foligno returning from battle by Simone Martini, as well as his Maesta and various Lorenzetti frescoes. Tired and dizzied by so much beauty we fell into the plastic chairs of a popular café spotted on the Piazza del Campo (where the Palio takes place). My mother and I ordered drinks and chatted away but my father was elsewhere, in his world... He reached for my sketchbook and started drawing the upper parts of the Palazzo Publico. He then passed the book to me and said, "You have a go. There's a barber's shop over there and I could do with a trim." With that he got up and walked off. I did a quick drawing of the Palazzo, ordered a glass of ice-cold local white wine and took it to him in the barber's shop. I will never forget his face and laughter and the barber's astonishment as I handed it to him. It was the simple things in life that made him happy, and there he was, sitting in a big red articulated chrome and leather barber's armchair, enveloped in his black barber's cape, glass in hand, with a perfect view of the animated piazza with its beautiful Palazzo. Perfection! When he returned to the café terrace, he added a dozen or so imaginary equestrian portraits of his own to my sketch book, each drawn in about 2 minutes flat. It was an extraordinary trip and a wonderful gift to a young man in love with the history of art and it had a long lasting effect on my life."
A black and white drawing that clearly demonstrates how Brian integrated elements drawn or photographed on his trips into his illustrations. Florence's Palazzo Publico seen here at the top of a walled and hilltop city.
For research on Joseph, 1997 and Exodus , 1998, later re-titled Moses, Brian and Aurélie chose to stay at the legendary and superbly located King David Hotel in Jerusalem, whose elevated site offers incomparable views of the old city walls, minarets and domes. An ideal place to rest after long days meandering through the historically charged sites sketching. Here again, Brian's research was rigorous and Joseph was much complimented. The British magazine Carousel, the guide to children's books, wrote "In jewel-like colours and with each page bordered with gold, Wildsmith captures the scale and lavish splendour of Ancient Egypt... This is a book which will inspire wonderful projects and artwork and each time you open it you will find something new." The Spectator wrote "Perhaps the most beautifully illustrated of this year's picture books… It is enriched by spectacular pictures of Egypt," and of Exodus the School Library Journal wrote "… meticulous and decorative detail… the paintings show the awesome events with excitement and beauty." It was suggested by many that the book should have been an award winner, which it almost was, as it was a finalist for The National Jewish Book Awards in 1998.
Five original illustrations from Exodus with details from four.
Brian's work became more 'formal' with age, as if his intellect was vying with his soul. He became most intransigent with the quality of composition and seems to enjoy the minutiae of the drawing process more than ever.
Seven original illustrations and details for each from Joseph, 1997.
An illustration from this book was shown in an exhibition named Picture This at the Fitzwilliam Museum in Cambridge, UK in 2000. In the exhibition catalogue it is written that "This image reflects the atmosphere of The Nile, the opulence of Egypt and the monumental scale of the architecture. Wildsmith's stage-like setting and the flatness of the planes hark back to the hieroglyphs of ancient Egypt. The gentle hues of glowing watercolour over the immensely detailed and beautifully draughty incline is characteristic of Wildsmith's more formal and finished later work. The influence of Italian renaissance painting is also there in the artist's carefully ordered compositions and vibrant use of colour."
During the 90s 'biblically inspired period,' Brian also created two pop-up books, Noah's Ark in 1994 which, in his words, "is a book about something fundamental in our society, caring for, and not destroying the very thing to which we owe our existence" and The Creation in 1995. Both of these books were published by Oxford University Press but produced by Intervisual Books, Inc., Santa Monica, California, U.S.A., considered one of the world leaders in pop-ups. Of the first title the The Junior Bookshelf wrote: "When an artist of Brian Wildsmith's eminence enters the world of pop-ups something special is indicated… as ark and sea, dove and rainbow rise up from the page, they can be viewed as rewardingly from the back as the front and the utilitarian tabs which operate some of the gadgetry are in themselves small works of art. Each of the five pop-up spreads has its surprise… Pop-up collectors will want this one…" and, of the second, the critic writing for Home & Country wrote, "What colour! What delight! Artist Brian Wildsmith has excelled himself by producing one of the most stunning picture pop-up books I have ever seen…"
In Brian's pop-up books, the images can be viewed as rewardingly from the back as from the front.
(Two sketches for this book can be viewed at the end of the Carousel display)
Asked in a telephone interview how he began the project, and exercising much creative licence, Brian clarifies his position with regard to the God vs Science 'Creation' debate and his answer is most enlightening in view of many of the subjects of his books: He says: "In a subject like 'The Creation,' you have to decide where you stand on the issue, i.e. Genesis or the Big Bang theory. I came to the conclusion that there wasn't a great deal of difference between the two concepts, the main difference being the concept of time. Genesis: God created the world in six days, i.e. 6 X 24 hours. If you remove the time element from Genesis and make a day = millions of years, where's the difference? God = what? - a super power that made or caused the Big Bang, sending matter to swirl and form into the infinite that, with time, became the universe. Of that same super power, or God as we conceive of him, the Bible says God made man in his own image, and our imagery of God is as we are. We need images we can relate to. It does help us to come to terms with an infinite so vast that it's quite beyond our comprehension." Brian believed that "in the whole of nature, there was some powerful, pervading creative force."
Brian's second pop-up book, The Creation oozes with vibrant life. "It is based on the story from the Book of Genesis which differs with the Big Bang theory only in the concept of time. 6 X 24 hours vs millions of years" (further explained below). It is an interesting proposition from an artist's point of view.
1994 marked an important and special occasion in our parents' lives: Their 40th wedding anniversary. Quite naturally they chose to celebrate with us, their children, their children's partners and their grand children. L'Oustau de Baumanière, a beautiful hotel with a gastronomic restaurant in an unostentatious XVIII century manor house, set in the magical surroundings of Les Baux-de-Provence, was the place they chose for the event and Brian booked us all in for the weekend. At the end of a gregarious, festive and quite astonishing dinner celebration, Brian stood, raised his glass to his wife and gave a speech. After thanking her for having been such a wonderful companion, he proceeded to amuse and astonish us all by recounting a list of mathematical calculations he had made: the 14 600 nappies she had either washed or changed; the 638 750 meals she had prepared; the 5.6 tons of potatoes she had peeled and cooked, the tens of thousands of kilometres she had driven, taking us to and from school, sports events, doctors as well as the 365 000 cups of coffee she and Brian had drunk over this period. They were awesome figures that showed his appreciation, induced our amazement and stupefied laughter, and demonstrated most clearly, and beyond any conceivable doubt, that without our mother, none of those present would have been in such fine form and with such a huge grin on their face. Aurélie had also been, with regards to his work, "the critic whose judgements he trusted the most," at times offering invaluably positive comments or suggestions, at others, offering a mere glance or mutter that would suffice.
Back home in Castellaras, after this long and hugely fun weekend, it was back to the drawing board, an old 60s formica dining table from a previous home in London, that he drew and painted on from the first to his very last book. Brian's studios were always spaces of peace and quiet he so needed to create, tucked away from the hustle and bustle of family life. He tried a long wave radio for a time before the advent of FM, a big black Grundig that brought news from home, but it didn't last long and just like anything else that produced sound it was distracting and so it was soon relegated upstairs or downstairs, to any other room where its purpose could be enjoyed! An exception to that rule was made for his gregarious children and later, his grandchildren. In A Talk For Children, from British Children's Authors, Interviews at home, Cornelia Jones and Olivia R. Way, American Library Association, Chicago, 1976, Brian said: "I have four children, three girls and a little boy. They all like looking at books and they all help me with my picture books. What happens is this: When I'm working in my little house in the garden called a studio, and they come running home from school and open the door, they say, 'Let's have a look Daddy.' So, they come in and look at the painting I've just done. I say 'Well do you like it?' They might say 'Well it's alright.' When they say that I know it's because they're not really excited about it. I say to myself, 'Oh, you children just don't know.' But then I pin the painting up on my board and I look at it for a few days and think, 'Well perhaps they're right, it's not really very good.' So I start again until my children come back and get excited and say 'Oh, I do like that.' That's when I know it's right for young children and I can go onto the next picture."
It was always Rebecca who volunteered to clear up his very cluttered and messy studio, sorting and arranging the gouache paints, the crayons, pencils, paint brushes, pastels, felt pens and scalpel blades, in an orderly manner. Many years later, as a grown up adult, she learnt that even though her father appreciated her efforts in trying to keep his studio in an organised manner, he would always have trouble thereafter in finding what he needed, as in his apparent chaos there was in fact an order, one he knew his way around. Talking about this one day, he said, that in many respects his entire professional preoccupation could be described as "making order out of chaos."
Pots of Unibond glue and old jam jars filled with different coloured sands also adorned the shelves. He would mix these two ingredients and apply the mix to pre-stretched paper with a variety of palette knives, ranging from tiny to large. Before the mix had time to dry, he would incise, gouge and scratch the surfaces to create textures that would provide visual depth to his art after he had applied the wide range of colours he loved to use, whether they be gouache, soft pastel crayons, graphites or washes… In fact, whatever it took to achieve the desired effect. How many times did we hear him say "There are no rules. How you achieve what you want is of no importance. It is only the result that counts." He also had a very large wooden plan chest, filled with coloured papers and reams of huge sheets of wonderful, thick hand-made, cream coloured papers. Brian was a stickler for only using the best art supplies, and he would often drive to Italy, just for the day, to San Remo in fact, for a plate of Fettuccine alla crema di Parmigiano, and a rainbow of Windsor and Newton paints!
Since 1993, Brian had periodically been working with his daughter Rebecca, a graphic designer, on a collaborative collection of small books. The What Next books series. With these books, the element of impending surprise that prompts a child to turn the page is of primary concern. Four titles were published in 1993. They were Look Closer, Whose Hat Was That?, Wake Up, Wake Up!, and What Did I Find ?
Look Closer - "Brilliant in every sense" according to the children's book critic Brian Alderson - Whose Hat Was That? Wake Up Wake Up! and What Did I Find? - Four of the seven books Brian wrote and illustrated in collaboration with his daughter Rebecca.
Jack and The Meanstalk, another book that warns children and parents alike of the dangers and foolishness of too much interference with nature's perfectly intelligent equilibrium.
The two other titles to mark this decade's end were the Amazing World of Words in 1996, "somewhere between an illustrated dictionary and a thesaurus… with sumptuous landscapes crammed with detail," as described by The Tablet and The Bremen Town Band, 1999, a Brothers Grimm fable, Brian adapted with the help of Oxford University Press' editorial services. He dedicated this book collectively to his three grand children, Carla, Ornella and Gabriel each of whom had had books dedicated to them in the year of their births.
Around this same time, Oxford University Press reverted the rights to a few of Brian's titles. Deborah Shine, the founder of Star Bright Books in Cambridge, Massachusetts, U.S.A., who had met Brian several times at the Frankfurt Book Fairs, "Reached out to him to bring his out-of-print books back to a new generation of readers." She sympathised with the values his books carried that were in tune with her own and those she wished to encourage through her publications.
Over the years Deborah and her team have published 15 of Brian's titles plus the new edition of The Bible Stories due out in 2020 and Pelican in 2021. They also worked with Brian on six different board books for the very young using
Seen here are a few of the illustrations from Amazing World of Words (photographed from the originals) with Brian's commentaries and some of his preliminary drawings.
In order to teach children the names of the animals, objects and things he or she might encounter in certain situations, Brian imagined 13 different scenes a child might come across or could imagine. They are: Space, Desert, Ocean, Mountains, Jungle, Town, Transportation, Market, Farm, Wildlife Park, Dinosaurs, School Play and Playground. There is also an index that contains more than 300 words, all of which are illustrated in the book.
From 1997 to 2015 Brian produced the illustrations for the covers of a Japanese medical magazine called Healthy Mates, written and edited by Hakuju Health Science Co Ltd., the company that belonged to his friend Mr Akikuni Hara. This magazine started with a monthly publication which later became bi-monthly, and now appears 4 times per year. Over the span of his collaboration with Hakuju, Brian produced 137 covers for Healthy Mates with Rebecca, his daughter, who was used to assisting her father in the later years of his artistic creation. She helped out, notably with the finer and more detailed parts of the artwork, that his failing vision and less certain hand now had some difficulty in accomplishing.
15 of the 137 covers Brian created for , A Tokyo base firm specialised in the making of technologically advanced medical equipment. It's CEO, Mr Akikuni Hara was a friend and patron of Brian's, owning many of his paintings on canvas.
Being a self employed artist meant Brian had frequent recourse to La Poste and DHL and, as it happened, he loved to package his works for sending abroad. As an aware environmentalist and thrifty Yorkshireman he had only to reach to the shelving beside his desk for his collection of recycled pieces of card and cardboard to select, wrap, sellotape, then parcel tape his very own and extremely robust packages. In the case of anything deemed personal he needed to send to his children, it can be said that there was a hint of paranoia in his postal techniques: a piece of sticky tape was always added to the already perfectly sound, self-gummed envelope. It became known in the family as his anti - MI6 tape, an impassable barrier to the over curious eyes of a peering agent! He also loved the personal, hand to hand service provided by his favourite courier service, who came directly up to the house to pick up his parcels. They too appreciated his acknowledgment, departing with a not insignificant bank note in their pocket.
Born as he was in January 1930, Brian turned seventy at the turn of the century. Like it often is for artists, retirement made little sense and while many men his age were mowing their lawn or washing their car more than was necessary, or, more in tune with the Côte d'Azur lifestyle, playing golf, he had a little more to give. He published The Seven Ravens, a book not artistically dissimilar to The Bremen Town Band published the year before, and was working on another six titles for the successful Cat on the Mat series: an edition of simple, playful, picture-books containing little or no text, for very young children.
The Seven Ravens published in 1999 and The Bremen Town Band published in 2000 and still available with Star Bright books.
Mary was designed in a manner not far removed from Renaissance panel painting and notably polyptychs which were often altarpieces: Image 2. They could have wings at the side or predella panels at the base which provide additional spaces in which to paint subjects that augment the narrative.
NB They have been separated here to see the individual components in more detail.
Mary, published in 2002, "is, as we have come to expect from Wildsmith, a book of great beauty", wrote Books for Keeps, Ann G. Hay adding "lavishly illustrated in gilt-frame arches, with multicoloured angels watching over almost every scene…"
The Road To Bethlehem, which was to be his last book, came out in 2003. It was described by The Times as a "gorgeous, gold-edged, heartbreaking version of the tale, told from the animals' point of view." In 2010 it was re-published under the name A Christmas Journey and Rosemary Stones, writing for Books for Keeps, said "The figures in Wildsmith's artwork are portrayed with a calm dignity in formalised poses reminiscent of the work of Pierro della Francesca, yet this picture book is also full of warmth and tenderness." Pierro was one of his idols and so Brian was most touched by this critique.
PUT IN SOME OF THE DRAWINGS THAT ARE BEAUTIFUL